I let you be for awhile. I got so busy that there was too much to tell you. So i let you go.

Things that have changed? I have a degree, I dabbled in puppetry, performed a little, l went deeper into a Clara Bow obsession, learnt how to save money, traveled alot, got lost and found the burn that keeps everything awake. again.

Now I want Switzerland snow fights, more peppermint tea and pushing myself to the edge in Brisbane.
Nice to see you again lj. whats been going on?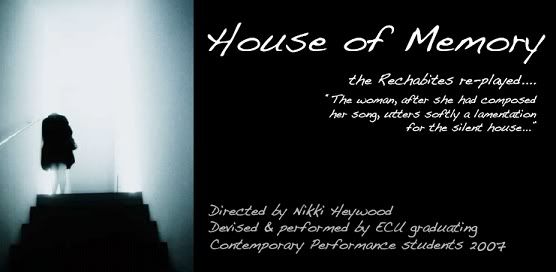 Here we go, the final show. After three years of waiting this is it.....
House Of Memory
Directed by Nikki Heywood
Devised and Performed by ECU graduating Contemporary Performance students.
The Rechabites Theatre (224 William Street, Northbridge, Perth)
Nov - 12, 13, 14, 15.
7 and 9 pm
Entry $10/$15 (BOCS Ticketing)
x
Alissa

Life slow down!
Too many coffees going along with serious lifestyle changes!
New job! Leaf in Mt Lawley.
So long Target and five years of being softgoods minion.
Hello cups of tea and tasty cake.
Audition Thursday.... BSX Hotbed.
Driving Test Monday.
UNIMA work going swimmingly.
Fulltime rehearsals with Nikki Heywood at King St in October.
.
.
.
.
.
But for now i shall go play squash. Hopefully it wont be like the name implies.
Whoa!
mood.:

bouncy